Sponsored Post
Let's take a moment and review some of my most commonly used words here on the blog…  "color, pattern, print, obsessed… POP!"  Yes, I admit I tend to overuse, misuse and possibly abuse the word "pop".  I would try and cut back a little but you see, THIS post is the quintessential post for the word pop.  Here's why…
I absolutely love our kitchen.  I really, really, really do.  But you probably know me well enough by now to know that white on gray on white makes me a little crazy.  In theory I love the clean, fresh and airy look but for my home, color is where it's at.  Although our island is a beautiful shade of turquoise, it was still missing that pop.  I added a little color with a yellow/gold rug and window treatment originally but something just kept telling me it wasn't quite right.  Let's take a look at the before…
BEFORE
For more on our kitchen remodel, read "Dreaming of A White Kitchen"
Then one day I saw this rug.  THE rug.  I was perusing around this amazing home decor website, Lavender Fields, and I became obsessed with this Dash & Albert wool woven rug.  The warm colors were the absolute perfect pop against the cool gray, white and blue tones already in our kitchen.  This contrast of warm against cool can create such a great POP!  Made from 100% wool using a hand loomed flat weave, this rug is very durable and extremely well made which is perfect for a kitchen.  I chose the 2′ x 3′ size for the area in front of our sink and the size is perfect.  You never realize what a difference such a small piece can make but now it is truly a statement piece in our kitchen.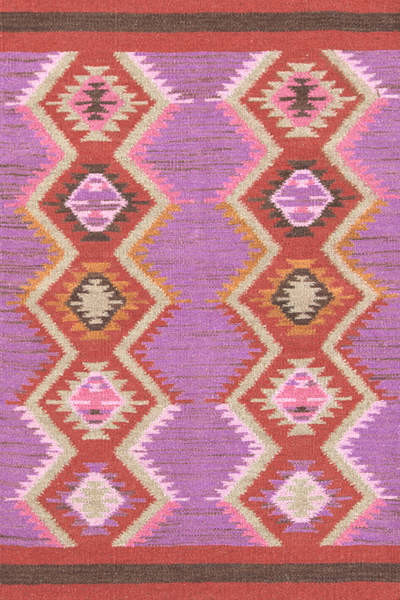 Dash & Albert Rhapsody Wool Woven Rug
Lavender Fields is an online boutique that carries an array of beautiful products from bedding to furniture, rugs and gifts.  Their site is wonderfully easy to navigate with products arranged not only by type but also by style.  You can search for items curated specifically for The Romantic Home, French Country, Farmhouse Style, and my personal favorite New Traditional Style.  Oh and don't worry, their customer service is amazing and shipping is right on time!  Pop on over and check out all of their impeccable home goods.
After the addition of the perfect pop of color and print, I can finally say our kitchen is complete and that's a wrap on this room!
AFTER
Want to see more of my favorites from Lavender Fields?
Couture Dreams Chichi Solid White Petal Window Curtain
Pom Pom at Home Mathilde Duvet Cover
Aidan Gray Isla Settee – Barnwood Gray
Bella Notte Linens Colette Duvet Cover
Dash and Albert Fretwork Navy Wool Tufted/Carved Rug
And guess what?  They also carry some of my favorite wallpapers!
Hygge & West Julia Rothman Daydream Green Wallpaper
Hygge & West Oh Joy! Petal Pusher Gold Wallpaper
Disclaimer: I honestly thought long and hard about delving into the world of sponsored blog posts.  I never want my blog to be a huge advertisement but I also do want to continue sharing things I love, supporting businesses and maybe make a few bucks to buy a new camera lens or rug every now and again.  Oh and most importantly, I only accept posts and products that I absolutely love and would promote anyways.  After all, I do blog as a hobby, for a love of design and to share fun things with all of you!
XOXO, Brittany Hayes