Eclectic Chic Master Bedroom
It's officially Spring!  I honestly dread the months of January and February each year and to finally be well into March is beyond exciting.  We decided to welcome Spring with a whole lot of outdoor cleaning over the weekend.  My hubby finally cleaned out our "barn" and started working on that space while I scrubbed, cleared off and re-decorated our back screened porch.  With the help of HomeGoods, I completely refreshed and brightened up the living area and I can't wait to share it with you!  Today is another blah, chilly and rainy day but I know sunshine and warm temps are right around the corner!
Today I am sharing our master bedroom renovation in our cabin.  As you all know, I am certainly not afraid of pushing the envelope of design in my home and our cabin is certainly not safe from my layering of colors and patterns. Besides the beautiful yet completely dry rotted rug, the space was a whole lot of blah with a side of brown and taupe.  All in all the room needed an overhaul and a good ole scrub down…
BEFORE
SELECTIONS
Since the flooring was in pretty decent shape and there were no other major changes needed in this room, the first step was paint.  I chose to continue the same white walls and gray trim throughout most of the home and into the master bedroom.   I will be blogging about creating a cohesive home very soon but this is one of my tips.  When you are playing with lots of colors and patterns, creating a cohesive canvas is a must!   To add further interest and a bold pop to this decently large bedroom, I chose a black accent wall for the bed.  This creates a very dramatic statement wall and really showcases the light headboard and bedding.  This room receives a fair amount of natural light so I was not afraid of closing it in too much with the color black.  Here's my journey to creating an eclectic chic master bedroom…
Alabaster by Sherwin Williams (Walls)
Tweed Coat by Benjamin Moore (Trim)
Iron Ore by Sherwin Williams (Accent Wall)
Next up, furnishing and accessories!  I am a girl that has a mad crush on Anthropologie.  I stalk their website like a teenager would a boy band and it's bad.  Real bad.  My hubby jokes that every day there's a new Anthro box on our doorstep.  Not really, but ya know.  Anyways, I fell in love with this duvet cover and it was the starting point for my room design.  I wanted to accent it with bold colors and fell in love with these amazingly colorful tassel pillows.  I then topped it off with the long orange/gold tassel lumbar pillow (pictured in "AFTER" below).  Since blue and orange are complementary colors, the pillow against the bedding really POPS!
I love creating a mix of hard and soft so upholstered headboards are one of my favorite choices for creating soft lines against wood furnishings and masculine colors.  This amazing headboard caught my eye with it's unique lines and nail head trim.  The perfect cherry on top of any home design sundae is amazing lighting!  Lighting fixtures are my weakness and I love, love, LOVED this amazing iron piece.  Finally, it was time to accessorize!  I found the awesome gold retro style lamps, side table lantern and white drapery panels at HomeGoods.  The room is still an accessorizing work in progress but here's the current "AFTER" featured below!  Enjoy!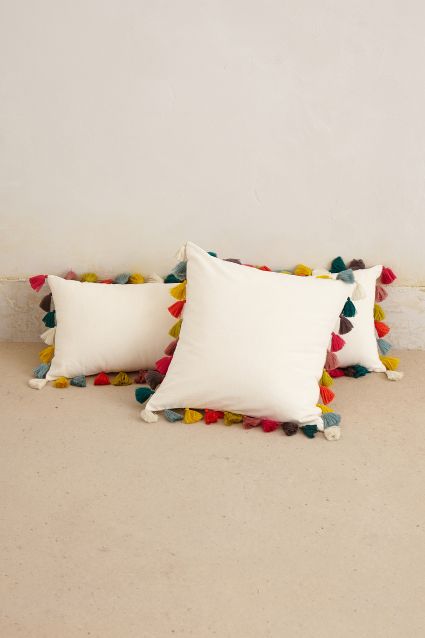 Tassel Pillows (both colors)- Anthropologie
Safavieh Queen Taupe Headboard- Overstock.com
Chandelier- Wayfair
nuLoom Rug- Wayfair (Similar)
AFTER
XOXO, Brittany Hayes