Mountain Chic Living
Thirty short days ago we closed on our mountain cabin in Big Canoe, GA.  Although we purchased the home for a relaxing, fun getaway spot, we took on quite the undertaking at the same time.  My hubby and I both absolutely love renovating and making huge transformations.  For the sake of enjoying our second home sooner than later, we decided to do a rapid renovation.  So, directly after closing my hubby and a small crew of guys headed up to the North Georgia mountains for a five day overhaul.  Prior to our closing we had taken pictures of the entire home for our "before's" , made a design plan and purchased ALL of the construction materials.  Once they arrived, they were ready to go!
Today I am going to share our main level living room!  Although the before and after is pretty drastic, this room was by a mile the least renovated room.  The floors, ceiling beams, fireplace and doors were all in great shape so our remodeling tasks were more aesthetic.  First, let's take a trip back to 1978…
BEFORE
UNDER CONSTRUCTION
As is very common in this gated community, we purchased this home "furnished."  Sounds fabulous right?!?  Well… let's just say that clearing out the home proved to be an undertaking all in itself.  Most of the furnishings, specifically the upholstered ones, had been sitting for close to 30 years!  The dust level was out of this world so 98% of everything was given away or trashed.  We went through THREE container sized dumpsters for the renovation PLUS multiple box truck trash hauls.  As far as what we renovated, it would most likely be much easier to discuss what we did NOT change.  Besides sheetrock and molding, the only other thing untouched was the main level wood flooring.  EVERYTHING else in the home was demo'ed.
"AFTER"
For this room, after it was demoed, the first step was PAINT!  My hubby and his crew finished up everything but paint in just FIVE short days including the complete renovation of three bathrooms, kitchen and most of the basement level.  Then over the Holidays, a painting crew painted every inch of our home.  Since it is very wooded, I wanted to ensure the home would be very light and bright!  So, I chose a beautiful white paint color: Alabaster by Sherwin Williams.  In the living room, I felt that the wall molding combined with the ceiling molding was a bit dizzying.  Although painting natural wood is very difficult for me, I think the result really showcases the ceiling beams and beautiful walls of doors.  I had the wood trim on the fireplace wall and the back wall all painted wall color.  The ceiling between the beams was also painted wall color.  For the doorway walls, I chose a beautiful warm gray called Tweed Coat by Benjamin Moore for the door molding and molding directly beside the fireplace.
Now to my favorite part of any renovation, DECORATING!  Our main home is very colorful, layered, transitional and a tad bit funky.  For this space, I wanted to create a very Aztec chic space with hints of my own personal styling.  As I talked about yesterday, I am goo goo over sectionals.  This room is pretty long and narrow so instead I chose a sofa/chaise style sectional.  For the sake of keeping this post bright and cheery I will refrain from any negativity regarding the purchase of our sofa from Ikea.  HOWEVER, I will share my story soon because it was a gosh awful buying experience and I honestly may never shop Ikea again.  Yes, I NEVER talk negative or complain but it was THAT bad.  Anyways, this is the Karlstad Sofa with Chaise Lounge.  The very first thing I stumbled across and fell madly in love with is this Kilim RUG.  Swoon!  I adore the soft colors and strong Aztec print.  Some of these kilim style rugs can be extremely costly.  This one I found HERE for about $550 but they are original turkish rugs so they don't usually have multiples of the exact same rug.  You can find lots of similar ones though!  I purchased the Kilim Pillow Cover on the arm chair from there as well.  Finally, the artwork over the fireplace is a piece that caught my eye on Instagram from Sugarboo Designs and I am now obsessed with everything this store carries!
Th adjoining breakfast room area is an even more narrow and awkward space.  I found this adorable small and narrow antiqued grey/white table at a local antique store.  I then purchased four of these amazing AEON Garvin Galvanized Steel Chairs in White from Target.  I love the juxtoposition of the soft rugs and colors with the hard metal chairs.  It creates a beautiful industrial chic look.  I also purchased skeepskins from Ikea for the backs of two of the chairs to soften the look.  Next, the breakfast room rug came from my absolute FAVORITE store Anthropologie.  I will share more pictures soon once we get more finished up.  It is a stunning tapestry style rug.  Finally, the awesome wooden arrows are from an amazing little hubby/wife owned company that I adore called Axel Co.  There is also one on the opposite wall and they're the perfect touch for this small wall area above the doorways.  Make sure and check them out on Etsy, Instagram (@axelco) and Facebook!
Although this room isn't complete, I wanted to share our progress with you!  Our lighting will go in next week and we are continuing to decorate and finish up some lose ends.  Enjoy your tour and check out sources for everything else listed below!
LIGHTING (coming soon!)
Jute Chandelier- Houzz
Chapiz Chandelier- West Elm
MORE AFTER PICS…
PRODUCT LIST
Art Print- Sugarboo Designs
Pouf/Ottoman- Target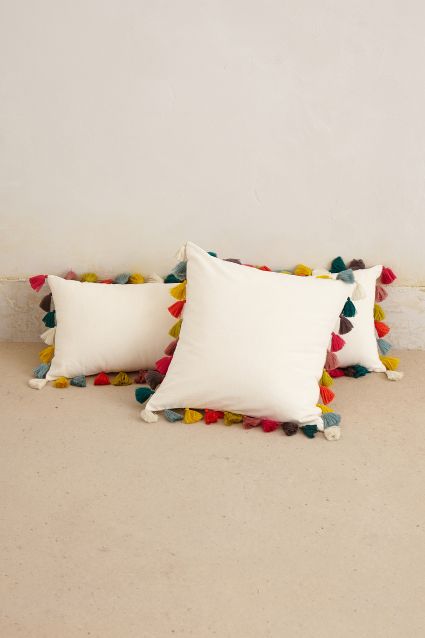 Tassel Pillow- Anthropologie
Chevron Pillow- Target
Ecru Armchair (similar)- One Kings Lane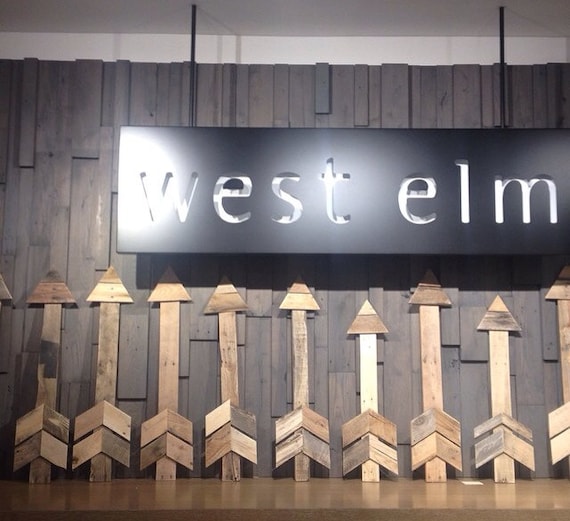 Wall Arrows- Axel Co.
Sofa/Chaise Sectional- Ikea
Aqua Curtain Panels- Ikea
Black/White Large Pillows- Ikea
Grey/White Hall Table- Local Antique Store
Fireplace Sconces- HomeGoods
XOXO, Brittany Hayes