the "catch all" nook…
Have you ever thought of the most random thing ever and then you try and figure out the thought trail it took for you to get to the most random thought ever?  My over-creative brain is almost always all over the place and I seem to do this way too often.  In fact, this blog post came from the absolute most random thought trail ever…  So I was planning on doing a wallpaper post for today.  And then I was making a joke in my head about how you'd have to hide in a closet to not see some form of wallpaper in our home.  And then I remembered that actually won't work either!   We have a closet that is wallpapered!  "Hey, I should blog about said closet!"  So here we are…
As you may know by now, I love to design.  I am in love with design.  I am obsessed with design.  My home is my canvas and I am obsessed with making things beautiful.   It's just so fun, so relaxing and such an outlet for me that not even a coat closet is safe from my designing self.  There are so many fun little areas in our home that I have yet to share and today I am doing just that.  You see, when you enter our home from the garage, we have had a little coat closet.  Let's be honest folks… the probability of any one of my family members coming home, opening up a door, taking down a hanger and hanging a coat is about zero.  Is there such thing as a negative probability?
Although our home is "fancy" and funky and all of those kinds of things, it's actually super functional.  Shocking, huh?  I love to think of ways that we really use our home and design around reality.  And the reality is, we like easy organization.  If it isn't easy, we won't do it.  So I decided to transform this coat closet into a bit of a catch all for everything we bring in from school, work, errands, etc.
First, we removed the door and patched/painted the holes from the hinges.  Next, I used extra wallpaper from our powder room to cover the back wall of the closet.  And yes, I still have yet to blog a bathroom.  I PROMISE that is coming soon!  Finally, I hung organizational baskets and hooks for every possible thing we would carry in the door.  Oh and then I had to top it all off with this amazing canvas to beautify the space even more.
P.S.  I apologize these photos are super edited and grainy.  I really try and minimally edit most everything I post but this "closet" is in an awkward, tight and very dark spot that is rather difficult to photograph.  May also be one reason I have yet to blog it too!

Within this new little nook, both my girls have a spot for their homework, artwork, school papers, etc.  My husband and I each have a cubby on the left side wall as well as another spot for bills.  Since I try really super hard to encourage everyone to remove their shoes, we have a big ol' basket for shoes.  Seeing as though we can all literally kick them off as soon as we enter the house, there are no room for excuses!  And finally, on the right wall, there are four hooks for coats, umbrellas, diaper bags and everything in between.  Hope you enjoy our little "catch all nook!"
Product List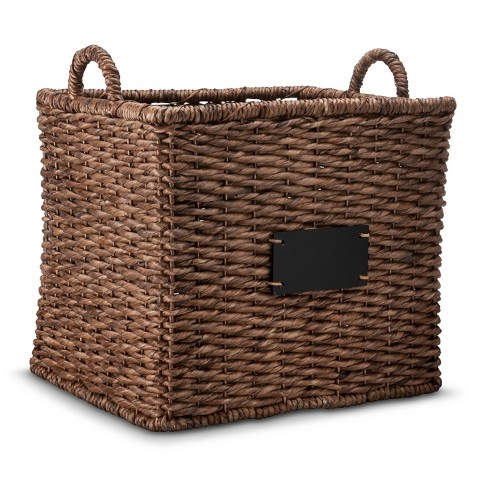 Hooks & Other Wall Basket- HomeGoods
XOXO, Brittany Hayes