How to Paint Hardwood Floors
How To Paint Hardwood Floors!
Whew!  What a crazy, paint fume filled, toddler pack n' play sleeping, late night DIYing couple of weeks!  I've done quite a few written designer interviews lately for some upcoming projects and I'm always asked to describe my style.  Gosh, what a hard question!  Sounds so easy yet I honestly just call my style: ME.  And then, as I was painting brand new wood flooring last week and my hubby walks in wide eyed I thought, FEARLESS.  That is exactly how I would sum up my style and design philosophy.  I mean, why not?!?  Anything can be re-painted, most products can be returned and it's your home so WHY FREAKING NOT?
I've tackled a wide assortment of DIY projects over the last ten years or so of my home improvement lifetime yet painting wood flooring was not yet checked off of my bucket list.  I knew I wanted to try it and didn't quite know where until I started designing my daughter Winter's big girl room.  I love layering patterns yet I somehow still wanted to keep her room pretty neutral and simple so the flooring was the perfect place to incorporate more pattern.  And once we decided to finally install new white oak hardwood flooring (Read the Post) upstairs, I knew the time had come.  For Winter's room, we simply had a raw, unfinished oak hardwood flooring installed and sanded down.  The next steps were all me…
BEFORE (True Before)
BEFORE (Winter's Nursery)
Read More on Winter's Nursery…
IN PROGRESS
THE PROCESS
With the advice of our professional hardwood flooring installer, I used a water based solid deck stain for the flooring paint.  This option is much less likely to chip and scratch than a typical paint and the water based option does not fill your home with strong fumes.  For the colors, I wanted to coordinate with the wallpaper so I had the wallpaper color matched at my local Sherwin Williams store and then I chose a gray one shade darker.
Snowbound by Sherwin Williams
Oystershell by Benjamin Moore
Supplies:
Deckscapes Water Based Deck Stain (one gallon per color)
Frogtape
Paint Rollers & Attachments
Paint Trays
Trim Paint
Paint Brush
Caulk & Caulk Gun
Pencil
Measuring Tape
Level
Step One:
Caulk the quarter round to even out nail holes.  This step is for newly installed quarter round.
Step Two:
Cut in around the walls of the room using a paint brush and roller.
Tip: I chose to paint the baseboards and quarter round after the completion of the painted floor so I did not have to be careful with getting flooring paint on the baseboards.  If you paint the trim first, make sure and tape off the trim prior to painting the floor.
Step Three:
Roll the entire room working your way out of the room.  I re-applied two additional coats of paint to create an entirely solid white floor.  I did one coat per night for three nights ensuring it was completely dry before re-applying another coat.
Tip: Make sure and sweep the room VERY well prior to painting to keep any dust, lint or hair from getting painted onto the floor.
Step Four:
I used a highly scientific method of determining the size of my stripes.  I knew I wanted somewhat wide stripes so I measured the width of the paint roller and added 1″ to make the process that much easier.  LOL!  The roller was 9″ so I chose to do 10″ wide stripes.  I started on the back, wallpaper wall, and measured out 10″.  I marked 10″ about every 3-4′ along the wall with a pencil.  I then used a level to line up the marks and draw straight lines creating the stripes.
Tip: Every couple of stripes, I measured the distance from my most recent line to the wall opposite my starting wall to make sure I wasn't getting too far off which would make my final stripe uneven.
Step Five:
Next, I taped off the lines using Frog Tape which was recommended by my local Sherwin Williams store.  I can honestly say it worked fantastic and there was not really any paint bleeding underneath the tape.  This entire process took me about six nights to complete.
Tip: I only taped off the strips I knew I would have time to paint that evening because I was afraid leaving the tape on for an extended period of time would peel the white flooring paint.  I also "x-ed" off each stripe I would be painting to ensure I wouldn't get too paint fume crazy and forget which stripe to paint.
Step Six:
Roll the stripes!  I carefully painted each taped off stripe making sure to not paint over the tape.  It took two coats of paint to fully cover the white paint underneath.  I waited about one hour in between coats.
Tip:  Once the second coat was applied, I immediately removed the tape to ensure it would not become too adhered to the flooring and pull off any white paint.
Step Seven:
For the last and final step on completing the painted striped wood flooring, I used Bona Mega Wood Floor Finish in Gloss.  This product is suggested for professionals and I had the second and third coats applied by our hardwood flooring company.  I applied the first coat using a paint roller and the following evening, our flooring guy buffed the floors and professionally applied two more coats of the gloss sealer.  This step ensures the paint will not chip or scratch and it also creates a nice glossy finish.
Tip:  Once again I HIGHLY suggest thoroughly sweeping the floors to remove any dirt, dust or hair before applying this sealer.
Step Eight:
Paint the trim.  Once the flooring was completed and dry, I taped off the flooring, painted the quarter round and touched up the baseboards the existing color, White Dove by Sherwin Williams.
For more on the wall colors and other details in this room, read "A Winter Wonderland".
AFTER
 After a week and a half of hard work, I can honestly say that I LOOOVE the result!  The striped painted wood flooring brightens up the room and creates such a statement piece in the room.  Although it is a strong pattern, it still creates a neutral back drop for some fun furnishings and accessories.  I can't say that any of this process was difficult per say, it was more time consuming and tedious than anything.  It was so fun and relaxing for me and I am SO excited to now complete her room!
PRODUCTS
Majvillan Wallpaper  (Cherry Valley Grey)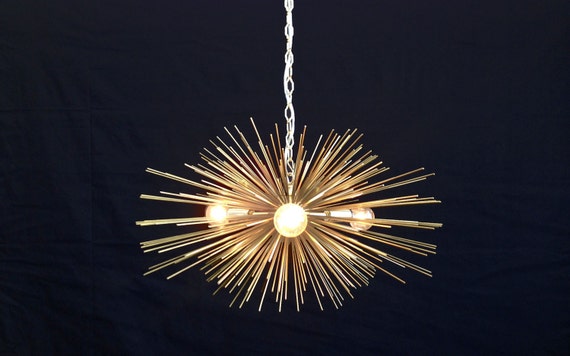 3-Bulb Gold Mini Urchin Chandelier
XOXO, Brittany Hayes